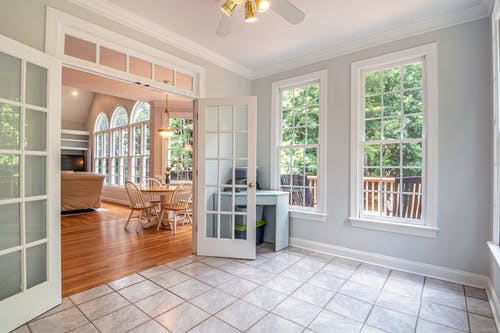 AN ULTIMATE GUIDE TO SUNROOMS AND THEIR SPECIFICATIONS!!
Publish Date:Jan-05-2022
Imagine soaking in the beaming sunshine in a cozy corner of a room, reading your favourite book with a nice cup of coffee, feeling heaven right beside you, right?
Well, you can experience this daily by installing a friendly and sustainable sunroom beside the adjoining of your house and enjoying the daylight without any interruption.
Let us have a look at the exact meaning of sunrooms:
What Is A Sunroom?
A sunroom is an ad-on room that is surrounded by glass. They are structures with screened openings, enabling you to open and close on the changing weather and mood. Since it's made of glass, they are great for enjoying the natural sunlight in sunny weather. These glass sunrooms are often referred to as patio rooms, solariums or glass patio enclosures.
Sunrooms keep the natural elements such as heat, rain, wind, dust, snow and bugs outside so that you can enjoy your view comfortably while staying inside.
When the house is built, some owners prefer installing sunrooms as a living space, which is affordable and extends directly into nature. Openness and visibility are two benefits of sunrooms, and they also blend in with the interior.
According to an article issued by PACIFIC PATIO, it is estimated that the average size of the sunroom can be within the proximity of 14-by-18-foot. However, the sizes and areas can vary from the owner's requirements and preferences.
Let us have a look at the seasonal sunrooms:
Three-Season Sunrooms - Three-season sunrooms are built using less expensive and lightweight materials, designed to be occupied during summer, fall and spring as they keep out dust and wind while letting light in. Three-season sunrooms are designed to provide shade with direct sun and heat so that you can enjoy the summer vibes without much heat.
Four-Track Vinyl Porch Enclosure - In a four-track vinyl porch, the stacking windows enclosure is made of vinyl nit with glass. These sunrooms will be an excellent choice for people looking to expand their living space. The material used in the four-track vinyl porch will protect the room from the UV rays while still allowing beautiful sunlight inside.
Four-Season Sunrooms -  As the name itself suggests, these sunrooms are enjoyable all year-round. They are designed to take the full force of the natural climate all year long, and there are no monthly barriers. The thermal resistance or insulation capacity makes the difference between the three-season and four-season sunroom.
These sunrooms have artificial heat for winters, and on hotter days, they are equipped with air conditioners.
Let us have a look at the purpose of sunrooms: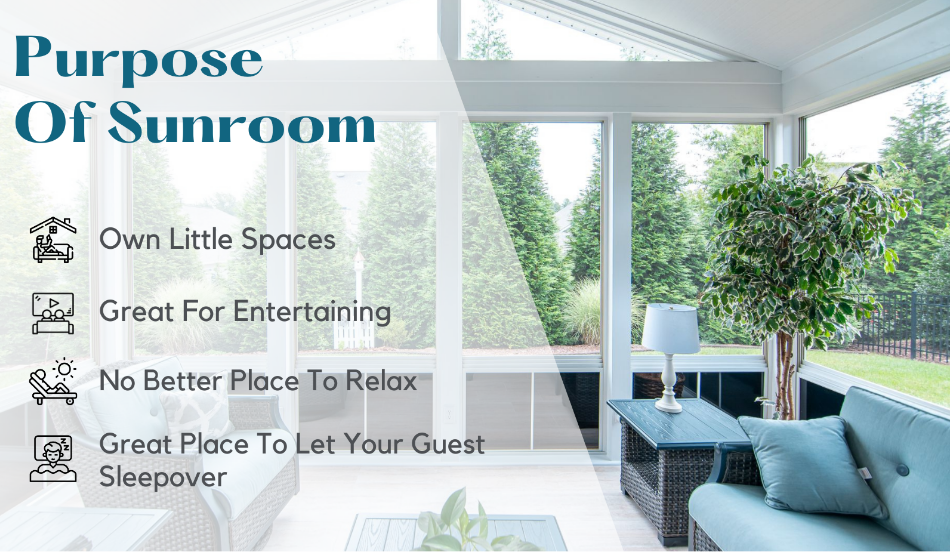 Purpose of sunrooms:
Your home has many reasons to add a sunroom, from enjoying white snow piled up outside your lawn in winters to soaking delicate rays of sun in summer and relishing the lovely weather.
1. GREAT FOR ENTERTAINING - It would be best if you had a little place where you could have your family and friends over. Sunrooms are the perfect place for gathering once in a while to have fun and occasional gatherings. Whether it's rain, wind or shine, you can gather for entertainment and have a great spot to mingle.
2. YOUR OWN LITTLE SPACE - Everyone likes to have their personal space to relax and read books while enjoying the perfect beautiful view through the sunroom. You can decorate your sunrooms so that they can match your vibes. It will be great to enjoy snow and Christmas lights through your sunroom while enjoying a hot chocolate.
3. GREAT PLACE TO LET YOUR GUESTS SLEEPOVER - If you want your guests to sleep over while having a party after a late night, but you don't have enough rooms or space for them to sleep. Sunrooms can solve your problem; as you can have your sunrooms, you can add couches and sofas, turning them into beds to create extra space inside your house. Your guests can sleep in your sunrooms while enjoying the sparkling night view.
4. NO BETTER PLACE TO RELAX - There is no better place to relax and have peace of mind than in a sunroom. You can enjoy a peaceful view from inside without ensuring any harsh heat or wind and cold weather. You can open some f the windows if you want some fresh and relaxing breeze.
Sunrooms have versatile uses like enjoying the view while reading your book, a perfect cozy place for a family gathering, Greenspace for your plants, flex-space for many activities like games, exercise and workouts.
The typical houses have front and back porches where you can enjoy the outdoors until the rain, wind or snow force you to hurry inside the house. Sunrooms are modern-day porches that cut down all the clutter.
According to an article published by HOME GUIDES, it is reportedly observed that installing sunrooms to the property can retain you almost over 47% of hike in the overall resale value of your house property. Which ultimately states that investing in a good sunroom can yield higher worth in the meantime.
If you are wondering where to get the most reliable and perfect sunrooms built: roll your eyes over: www.sunspaces.com
You shall come across some exceptional designs, and the quality building will just leave you amazed. SUN SPACES provides 100% satisfying services at an affordable price to its customers. The wide range of variety provides you with an edge over the latest trends of the sunroom industry. Trust SUNSPACES by trying yourself. 
In case of any doubts, feel free to drop your queries on skyview@islandnet.com.