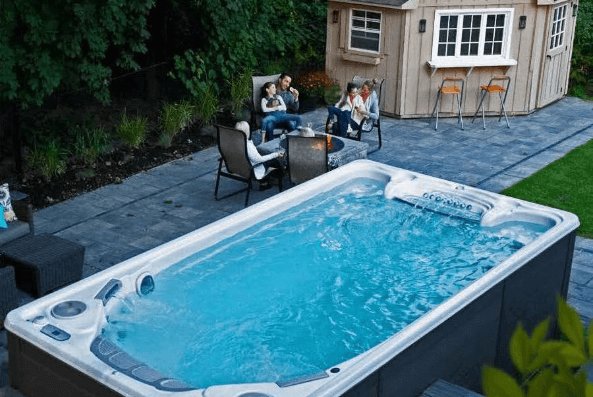 7 BENEFITS OF INSTALLING A SWIM SPA IN YOUR HOUSE!!
Publish Date:Jan-06-2022
Are you a person who is fond of swimming, however, isn't able to go for recreational activities around due to packed schedules? Well, SWIM SPAS is the best solution for that.
Before reading any further, let us have a look at the exact meaning of Swim spas:
Swim spas:
A Swim Spa is a machine that acts as a small swimming pool, where you don't have to continue swimming laps like a regular pool. This is the best option for swimming and allows you to swim against a water current.
You can have a hot tub spa facility with a swimming area on the other end. Swim spas have gained more recognition in the past few years, and the craze continues so far, making them available in almost any corner of the globe.
Swim spas come in different sizes and designs. However, the broad base of allowing people to soak themselves inside the warm water and relax stays the same. The warm water soothes your mind and body, elevating the effectiveness of the physical activities you perform.
Swim spas require a lot of preparation, and it's an investment worth it because of its various benefits. You can get the best workout without going to the gym. Swim spas have year-round usability, so you don't have to worry about the weather and other factors.
According to an answer found in the survey result by AQUA LIVING STORES, Swim spas are a great option to increase the overall worth of your house.
Installing an excellent and attractive swim spa will catch the buyer's attention and ultimately does not mind paying a bit for some immediate access to luxuries around the house. The ideal increase of house worth raises to around 7 to 8% on the final amount of the property.
Let's have a look at the benefits of swim spas which make them worth buying: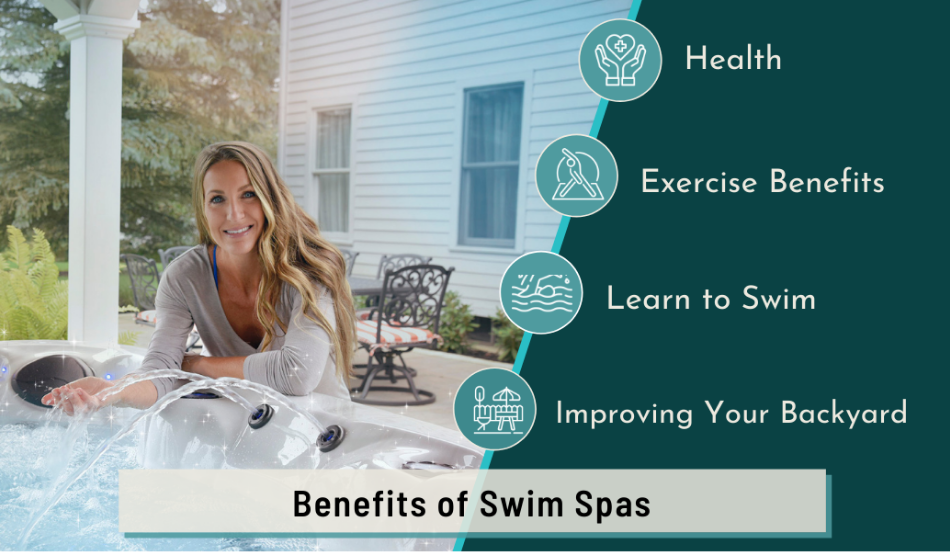 01 Hydrotherapy - Hydrotherapy is the best form of therapy that uses water which helps recover from physical injuries and muscle pain. This therapy is an ancient therapy and helps increase blood circulation and produce natural endorphins. Swim spa helps to stretch muscles and improve soreness or joint pain.
02 Health - Swim spas have many health benefits and can positively impact your body's overall fitness and health. Swim spas sessions will reduce muscle tension and help with soreness, which ultimately reduces stress and helps to improve sleep.
03 Exercise Benefits - Swim spas allow you to enjoy water exercise, and you can have swimming workouts. Water takes 90% of your body weight and frees your muscles and joints, helping your body relax. This gives you a relaxing experience by lifting all the stress and tension from your shoulder. You can exercise without sweating and feel refreshed by swimming.
04 Compact Size - Swimming pools are extensive and require maintenance, more preparation, and beyond the cost. It also covers up huge space. A pool in a backyard may sound nice, but it's not always viable. However, with a Swim Spa, you can access combinations of spa and hot tubs, which consume less space.
05 Learning To Swim - Swim spas offer an environment to learn swimming. It also has a controlled environment for children to get used to the water. Swim spa jets can be controlled, enabling you to learn from beginners to intermediate and advanced swimming.
06 Improving Your Backyard - You can transform your backyard by having swim spas that give a perfect aesthetic vibe. Swim spas are the best fun and worthwhile investments, and it creates an impact right outside your home.
07 Year-Round Use - The best advantage of swim spas is that you can use them throughout the year, whether it's summer, winter or spring. You can control the temperature panel to adjust the temperature, whichever is convenient.
LET US HAVE A LOOK AT KEY POINTS OF DIFFERENCE BETWEEN A POOL AND SWIM SPA:
Pool or swim spa which is better?
01 Installation- Price is the biggest concern when it comes to installing a pool or a swim spa. The pool takes up to 2-3 weeks to install and has installation and insurance costs. At the same time, a swim spa costs you half of the pool and also takes less time to install.
02 Space - While installing a pool or swim spa in your backyard, you must consider Space. You can install a swim spa inside or outside in your backyard, and it requires half the Space as the pool, which makes the swim spa flexible and convenient. Swim spas are smaller and mobile, allowing you to move your swim spa to your desired location.
03 Operation & maintenance - When it comes to maintenance, pools cost in terms of operation. The pool enquiries more money and time, and maintenance should be made at least once a week.
While on the other hand, swim spas do not require much maintenance and use fewer chemicals to operate. Swim spas require less water which ultimately costs less and saves you more money overall.
If you are wondering where to buy the most reliable and perfect swim spas and their accessories: roll your eyes over: www.sunspaces.com
The exceptional quality and customer service will leave you amazed. SUN SPACES has been serving 100% satisfying services at an affordable price to its customers for many past years now.
The wide range of products provides you with an edge over the latest trends of the spa industry. Trust the products by trying one by yourself.
In case of any doubts, feel free to drop your queries on skyview@islandnet.com.