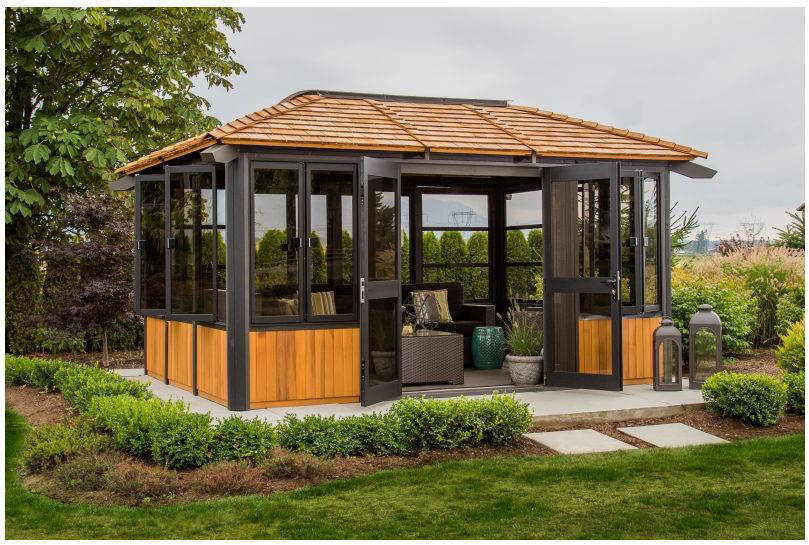 Kelowna 11x11 | 11x14
Made In Canada

Made in Canada. We're proud to say it. Wood materials sourced from Canada guarantees a finished structure as beautiful and strong as the land that grew it. Our mill and manufacturing plant are located in Chilliwack British Columbia, not far from the forests where our wood materials are harvested. Each wood component is graded, cut and painted in our own facilities, which gives us the ability to provide a consistent, high-quality end product.

Aluminum Bi-Fold Windows

Aluminum and tempered safety glass combine to make a beautiful and functional window. Roller wheels let you open and close the window with ease, and a pin lock makes security easy. You choose if the bifold is to open to the left or the right with our adjustable opening system. Smoked glass adds a touch of privacy.

Double-Door With Lock

Our double-door system is your gateway to fun. Features include tempered safety glass and aluminum rail and stile components. A locking handle ensures your belongings are safe when the fun is over.

Western Red Cedar Shake Roof




The Western Red Cedar Shake Roof is exclusive to our line of WRC structures. This classic roof style is functional and stylish, providing a warm look to your decor. Western Red Cedar has a high natural resistance to decay, which makes it a perfect natural product for our roofs.




Western Red Cedar Structure




Step inside a Western Red Cedar structure by Visscher and you will understand why they are considered world-class buildings. The natural aromatic oils found in Western Red Cedar set our structures apart as the ultimate location for your outdoor relaxation. Harvested almost exclusively on the Pacific Coast, this wood species has a high resistance to decay which makes it the natural choice for our structures.

UV Resistant Skylight 43″ X 83″

This large skylight gives you a clear view of the night sky. During the day, it lets the sun's natural light in, without the harmful UV rays.
---