Let the Good Times Roll!
Introducing...
Let the Good Times Roll!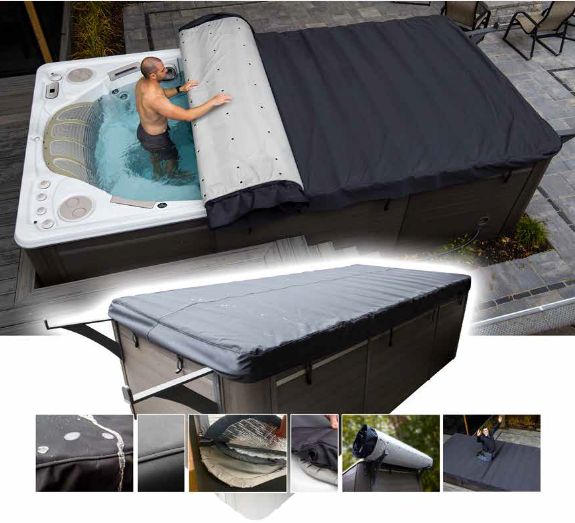 This next generation one-piece spa cover creates a complete seal on top of the swim spa; locking in the heat, lowering energy consumption and cost. The Rollaway Spa Cover design enables one person to roll the cover off the swim spa in less than 60 seconds, providing immediate access to the swim spa for swimming, aqua fitness and hydrotherapy.
25% Lighter than other rolling spa covers & super easy to roll back revealing your spa.
Rollaway Spa Covers CONSTRUCTED WITH NON-COLLAPSABLE SUPPORTS to keep its shape in all weather conditions.
DURABLE WATERPROOF & WEATHERPROOF fabric that is double stiched on all seems to ensure a tight secure bond & stiched X-pattern on all locking straps to keep your cover secure during high winds.
EXCLUSIVE TRIPLE THERMAL SHIELD TECHNOLOGY has 3 distinct insulated layers & 2 insulating air pockets.
EXCLUSIVE PATENTED GROMMETS allow trapped hot air to escape while rolling-up cover.
SOLID CONSTRUCTION the expanded cover will easily support an individual's weight. (Rollaway does not recommend walking on their Cover, but in the event you do it will easily support your weight.)
MANUFACTURED USING THE HIGHEST QUALITY COMMERCIAL GRADE MATERIALS, providing a strong, durable, lockable safety cover. The Rollaway Spa Cover is built to last in all elements and weather conditions, fully-framed to handle snow load. In fact, 97% of the swim spa's infrared heat is reflected back into the swim tank which makes the cover the most insulated part of the swim spa. The top and stitching are all UV protected and will not deteriorate over time or in direct sunlight.
FOR THESE REASONS ALONE YOU SHOULD ROLL WITH US...
THREE-YEAR LIMITED WARRANTY . ASTM CERTIFIED
Swim Spa Length

MSLP

SALE

12ft

$5,600

$4,675

14ft

$6,200

$5,150

16ft

$6,450

$5,450

17ft

$6,975

$5,825

19EX

$7,200

$6,175

19DTFX

$7,350

$6,250

Bracket

$379

$284