Swimspa Swim Jets Technology

Swimspa Swim Jets Technology
"V"-Twin Jet
(for Aquatrainer & Executive Trainer Swim Spa)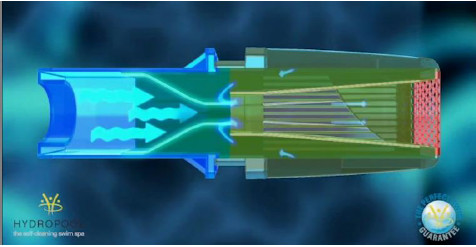 The Patented V-Twin Jet is unlike any other swim jet on the market. Exclusive to Hydropool each V-Twin jet produces over 640 Gallons of water per minute.
 
Water enters the current collector to reduce the velocity helping eliminate the vortex created by the pump.
 
The current then enters the first V of the V-Twin jet, through the flow accelerator, substantially increasing the speed of the water.
 
The Swim Fins further shred the vortex, eliminating turbulence in the swim lane.
 
The Swim Gills surrounding the flow accelerator double the volume and velocity of water, both sources of water are combined in the second "V" supercharging the jet.
 
Finally, the true swim nozzle straightens the flow of water creating the ultimate swim.
 
The speed of the current is customizable, allowing you to dial in the perfect swim from novice to tri-athlete now with treadmill technology.

Swim Grill
(for AquaSport & Executive Sport Swim Spa)