AquaFitness Options

Aqua-Rowing Kit
is a combination of stainless steel oars and resistance bands attach to swivel anchors allowing you to do the full rowing motion. This is an excellent upper body and abdominal workout.
Fitness Package
The addition of this fitness package turns any swim spa into an Aquatic Universal Gym. The resistance bands add another dimension to your workout and can be used anywhere in your swim spa within the exercise or swim tank area. The resistance bands create a full range of motion helping promote muscular development.
Extreme Aquatic gym program. Everything you need to stretch and strengthen all your major muscle groups for a full water gym program. Especially for home pool program.
Includes:
WaterART Large Equipment Bag
Striped Closed Cell Noodle
Pair of 5 inch Dumbbells
WaterART  Mitts ( small, medium, large OR x-large)
Pair of Flex Paddles 
Buoyancy Jog Belt ( S/M) 
Medium Resistance Tubing with Handles
2 Laminated  Pool Cards- LC030: Sports Conditioning & LC031: Beginner Workout
**BONUS** DVD030: Sports Conditioning  & DVD031: Beginner Workout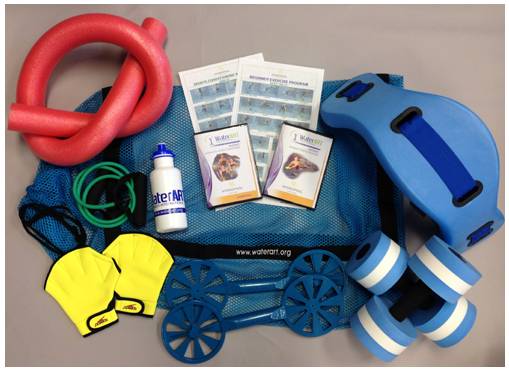 24"/48" Wall Mounted Exercise Bars
These can be mounted within the interior of the swim spa and is intendeed to act as a stabilizing bar for stretching and various other activities. Alternately, nearby walls for safety purposes as well.
Games for Kids
Turn one of our swim spas into family water park right in your own backyard. We offer a range of kid friendly accessories.