Engineering and Load Test Results
| | |
| --- | --- |
| Engineering and Load Test Results | |
Assembly Description
The test assembly is illustrated below. As shown the test sunroom consisted of three curved rafter sections joined together by acrylic panels. The assembly was supported at the top end by fastening the ledge angle into a timber 2 x 6 which was bolted to the concrete block wall and at the bottom end by an angle fastened to a timber 6 x 6 fixed to the asphalt pavement.
The load was applied by stacking bricks onto a plywood sheet which was supported on six 2 x 4's on the aluminium rafters. The weight of a representative sample of bricks and the plywood was measured before load application. The test assembly deflection was measured at five locations:
three vertical movement monitors at the approximate centrepoint of each horizontal span
one vertical movement monitor at the curved end of the middle rafter
one horizontal movement monitor at the curved end of the middle rafter
The test assembly construction and load application was performed by Skyview Industries Ltd personnel. The load and deflection monitoring was performed by Hardy BBT Limited personnel.
| | |
| --- | --- |
| Unloaded Test Assembly | Dial Gauge for Horizontal Deflection |
|   |   |
| Loaded Test Assembly | Loaded Test Assembly |
Load Test Results
The test results are listed in Table 1. Loading was continued until it was observed that deflection occured under constant load. For this test assembly it was undesirable to apply load to destruction thus when creep deflection was observed, unloading was initiated. The test assembly and loading are illustrated above. For convenience the test results have been summarized below.
Subject: Results for the full-scale load test performed on the 10 ft. span.
Notes:
T5 architectural grade aluminium rafter 1½ inches depth
Nominal span: 10 feet
Test assembly constructed with three rafters 25 inches on centre
Load *
psf
Equiv. Load **
per lineal foot
per rafter
Deflection
(inches)
Vertical
Horizontal
0
11.42
18.8
28.6
36.0
40.9
45.8
50.7
0
23.8
39.2
59.6
76.0
85.2
95.5
105.7
0
0.71
1.34
2.22
3.01
3.58
4.22
5.08
0
0.16
0.26
0.40
0.49
0.55
0.60
0.64
- Load calculated for a 50 sq. ft. area (i.e. that area supported by three rafters)
** - Load on per beam basis as shown in sketch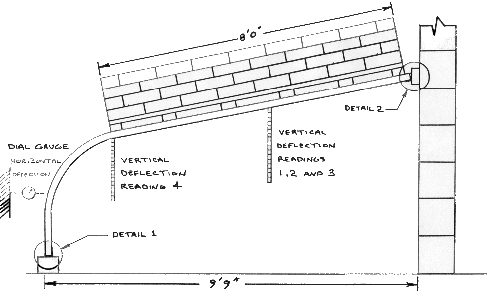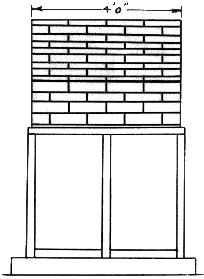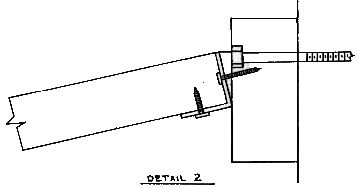 TABLE 1
LOAD TEST DEFLECTION DATA
LOAD
LBS/LINFT (1)
PSF-50SF (2)
PSF-32SF (3)
0.00
0.00
0.00
3.30
1.59
2.48
13.54
6.50
10.16
18.66
8.96
14.00
23.78
11.42
17.84
28.91
13.87
21.68
34.03
16.33
25.52
39.15
18.79
29.36
44.27
21.25
33.20
49.39
23.71
37.04
54.51
26.16
40.88
59.63
28.62
44.72
1 (4)
2 (4)
3 (4)
AVE (4)
0.00
0.00
0.00
0.00
0.09
0.03
0.06
0.06
0.34
0.31
0.38
0.34
0.50
0.47
0.59
0.52
0.69
0.66
0.78
0.71
0.88
0.88
1.00
0.92
1.09
1.09
1.22
1.14
1.28
1.31
1.44
1.34
1.47
1.50
1.63
1.53
1.69
1.75
1.91
1.78
1.91
2.00
2.13
2.01
2.09
2.19
2.38
2.22
4 (5)
DG (6)
0.00
0
0.00
0.018
0.13
0.086
0.16
0.12
0.19
0.155
0.25
0.19
0.31
0.227
0.38
0.264
0.44
0.299
1.00
0.333
0.56
0.365
0.63
0.396
LOAD (continued)
LBS/LINFT (1)
PSF-50SF (2)
PSF-32SF (3)
64.75
31.08
48.56
69.87
33.54
52.40
74.99
36.00
56.24
77.55
37.22
58.16
80.11
38.45
60.08
85.23
40.91
63.92
90.35
43.37
67.76
95.47
45.83
71.60
100.59
48.28
75.44
105.71
50.74
79.28
105.71
50.74
79.28
0.00
0.00
0.00
1 (4)
2 (4)
3 (4)
AVE (4)
2.34
2.47
2.63
2.48
2.63
2.72
2.68
2.74
2.88
3.00
3.16
3.01
3.00
3.16
3.31
3.16
3.09
3.31
3.47
3.29
3.41
3.56
3.78
3.58
3.66
3.91
4.09
3.89
3.97
4.22
4.47
4.22
4.31
4.56
4.88
4.58
4.69
4.94
5.28
4.97
4.81
5.03
5.41
5.08
0.53
0.69
0.88
0.70
4 (5)
DG (6)
0.69
0.431
0.75
0.462
0.88
0.493
0.91
0.503
0.91
0.518
1.03
0.549
1.09
0.572
1.19
0.602
1.31
0.623
1.44
0.645
1.47
0.644
0.09
NA
Load calculated as lbs/lineal ft/beam
Load calculated as lbs/ft² on a 50 ft² area
Load measured as lbs/ft on a 32 ft² area
Midspan certical deflection gauges
Vertical deflection gauge at curve
Horizontal deflection gauge at curve