sunrooms6

PolyCarbonate Awning / Solarium Glazing Materials
Left to Right:   (See graphic below)
Angle for under and over glaze @ the Terminating front face 2(1/16" x 1.5" x 1.75")
1/8" x 1" x 1' Angle - used at all corners - see the links to Samples
"Base and Ridge": used to connect to structure @ roof and foundation areas.
 
Note: the black and white Nylon connection plugs.
Main rafter slip over these plugs and locked via a screw.

Short Section of Rafter
Rafter + Barcap which is screwed into the rafter every 11"

Note: the seals, (4 in total)- 2 each per aluminum barcap & rafter system, plus PVC screw cap cover.
 
 
 
 
Barcap:

Basically 1.5" width x 1.2" total thickness depth.
Note: Upper profiles receives "PVC Screw Cap" & lower profile receives the cup seals (2 per Barcap length), plus pre-drilled holes every 11" along length for securing barcap and glaze,  to rafter segments during construction.
 
 
 
 
Rafter:

Both left and right upper shoulders support the glazing sheet with the 2 full length seals sitting under the glaze in respective slots. The center channel is to receive the screw from the Barcap that will squeeze or lock down the glaze, yet will still allow the sheet to remain alive under pressure for the required sheet expansion and contraction.
Note: The underside will be able to be slipped together to built a double or triple rafter as required due to some spans.

 
 
 
 
Examples: Straight Awning:
Rafter centers are 24" to 26 1/8"
[ Centers are dependent on sheet width from manufacturer ( 48" to 52 1/4") ]
Note: Cross brace at mid span and wooden support posts + beam
 
 
 
 
Interior view of twin wall Clear polycarbonate glaze and white rafter/barcap
Note:Full length seal above and below glaze.
 
 
 
 
Interior view of twin wall Bronze Tint polycarbonate glaze and white rafter/barcap
 
 
 
 
Curved Awning:
Bronze Tint twin wall polycarbonate glaze
Note:Curved front face support posts
Applications: Polycarbonate twin and triple wall coextruded Thermoglazing: Applications requiring material which offers high light transmission, thermal insulation, light in weight, yet incredibly strong, high shock resistance, flame retardance, great economy, vandal resistance, and design flexibility.
Agricultural
Industrial Building
Architectural Glazing
Home Improvement
Agricultural:
Greenhouse coverings where good thermal insulation
is necessary together with light transmission.
Industrial Building:
Various glazing applications, sheds, light domes, shelters
and insulating and light diffusing roofing.
Architectural Glazing:
The ability to be cold formed into arches allows design freedom
not possible in other glazing. Walkways, shopping centers,
swimming pool covers, skylights and other space enclosures.
Home Improvement:
Projects like window replacements, shower enclosures, greenhouses, partitions, light covers, patio covers, gazebos, solariums, carports.  
Easy to Install:
Polycarbonate will not crack or split when cut or drilled.
Extra Wide Panels:
Standard widths of 4 ft. and length @ up to 24 ft.
Special Order: 6 ft. wide & up to 36 ft. length.
Transparent:
Offers up to 83% light transmission in its clear form, also available in bronze tint and white translucent.
Lightweight:
Weighing just 1/8 the weight of glass. these panels are self supporting and do not require the extensive structural support that a heavier glass wall or skylight needs.
Highly Flexible:
Unlike glass, polycarbonate can be readily cold formed to many bending radii, and can be fabricated on site to precise dimensions. The sheet can be cold formed bent to 150 times the thickness of the panel without over tensioning.
Virtually Unbreakable:
Able to withstand extreme abuse, impact strength is 200 times greater than glass and 10 times greater than acrylic sheet. Maintains its impact strength over a wide temperature range from -40F to +250F.
Saves Energy:
The twin wall and triple walled construction of these panels gives excellent thermal insulating values while blocking UV transmission.
LightTransmission:
White, Bronze and clear allow light transmission from 42% to 83%. In addition, there is positive light diffusion due to the rib structure, this will provide a certain amount of internal privacy to the structure, plus a critical protective screen to young plants from burning. Sheets carry a clear coextruded outer surface which provides high stability against the effects of UV radiation and gives excellent durability to outdoor weathering. This unique protection insures long term optimal quality under intensive UV exposure.
Warranty:
Backed by a 10 year warranty on light transmission and a 10 year warranty against breakage caused by hail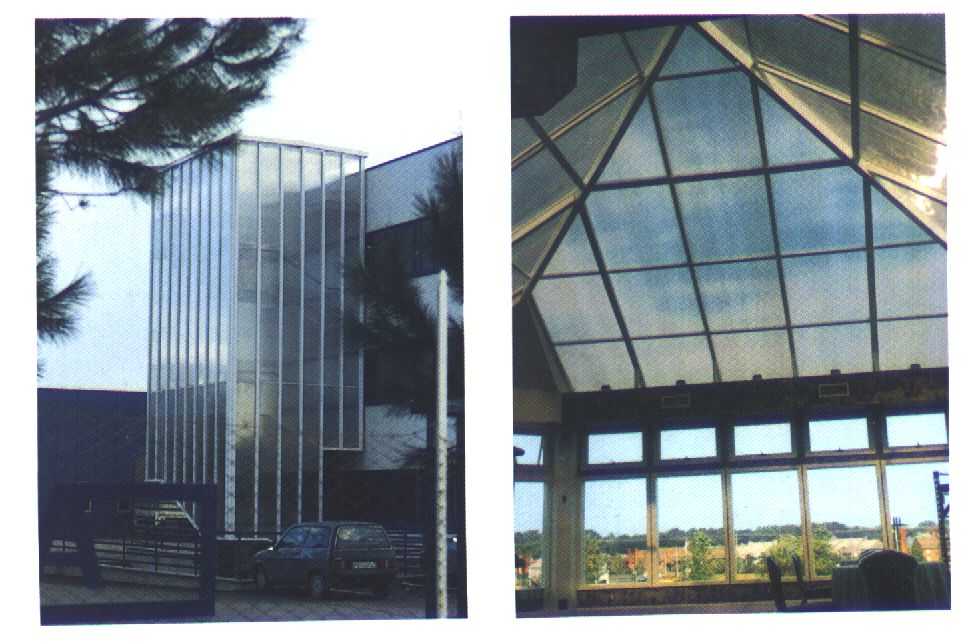 Resistance of Polycarbonate to Chemical Agents at 73°F
The list below indicates the resistance of polycarbonate to chemicals and various products. Resistance can be effected by the chemicals concentration, duration of exposure, degree of pressure and temperature at time of contact.
CHEMICALS
 
DETERGENTS
 
LUBRICATING OILS
Acetone
Ammonia
Carbon Dioxide, moist
Citric Acid 10%
Ethyl Alcohol, 96% pure
Hydrochloric Acid, 20%
Isopropyl Alcohol
Kerosene
Ozone
Petroleum
Propane Gas
Sulphur Dioxide
Sulphuric acid, 50%
 

Resistant
Conditionally Resistant
Non-Resistant

 
Ajax Cleanser
Laundry Soap
Soft Soap

ADHESIVES
All-purpose Glue
Gypsum
Insulating Tape
Putty
Rubber

VARIOUS
Battery Acid
Cement
Floor Polish
Natural Rubber
Ocean Water

 
Automatic Switch Grease
> Silicone Oils
Brake Fluid
Cable Insulating Oil lG 1402
Cable Insulating Oil KH 190
Diesel Oil
Drilling Oil
Fish Oil
Heating Oil
Jet Fuel [JP4]
Paraffin
Silicone Fluid
Turpentine
Varnish
Max. Purlin Spacing with a 1" Deflection
( 3/8" Twin Wall Example)
| | | |
| --- | --- | --- |
| Load @ 3/8" Gauge ( lb./ft.2 ) on 4 ft. Width:  | 30 ( lb./ft.2 ) | 45 ( lb./ft.2 ) |
|   | 34" | 28" |
| |   |   |
| Sheet Thickness @ 3/8" | Weight: =  | 0.41 lbs./ft.2 |
| Light Transmission [ ASTM-D1003 (%) ] | CLEAR  | 80 % |
|   | BRONZE | 50 % |
|   | WHITE | 62 % |
| U-Factor (BTU/hr.-ft.2 F) |   | 0.54 |
| R-Value |   | 1.79 |
Factors, Graphics Supplied by: Co-Ex Corp. & EST Dev/Comm