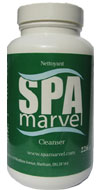 Spa Marvel® Cleanser
• The perfect way to clean your spa & hot tub before using Spa Marvel® Water Treatment. Spa Marvel® Cleanser is a fast acting proprietary cleanser that penetrates deep inside your spa's plumbing and equipment, removing organic, mineral and chemical contaminants.

• Spa Marvel Cleanser must be used even if the hot tub is new in order to remove residues left over from the manufacturing process. If these residues are not removed they will slowly enter the hot tub and will cause the water to become cloudy.

• Prolongs the life of spa and hot tub equipment and heater element.

• Works great in whirlpool/jetted bathtubs.
---