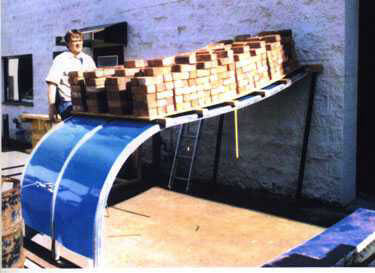 Engineering Load Test
Glaze: 1/8" Acrylic Beams: T5 Aluminum Span Length: 10'0" Width: 4'2" Centers: 25" Load: 50.7 lb/sq/ft Load/Rafter: 105.7 lb/lin. ft. Deflection (inches) Vert. = 5.08 in. Deflection (inches) Horiz. = 0.64 in. Note: Original sheet thickness was 1/8", today we utilize 3/16" as standard glaze thickness. All center to center Rafter dimensions are now 26 1/8".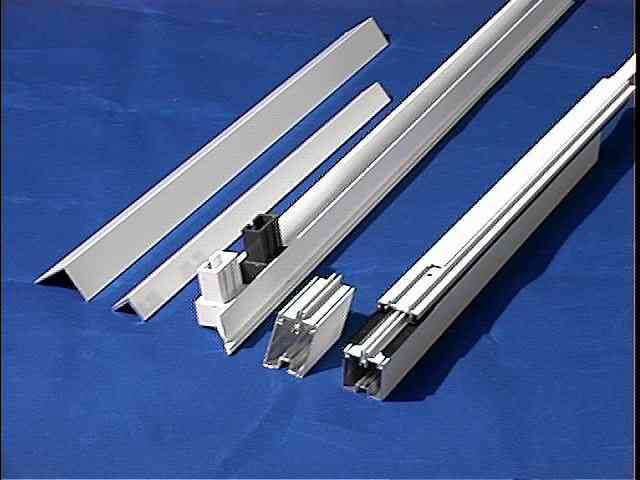 Aluminum Rafter Specifications
Aluminum structural members: Are all extruded T-5 6063 architectural grade aluminum alloy. Exterior Finish: Factory raw, White/Brown spray enamel, or electrostatic powder coat custom color. Nylon Plugs: Proprietary design - White/Brown fastening members. Glaze Seal: "Santoprene" cup seal - 4 per full Rafter/Barcap length, 2 upper & 2 lower.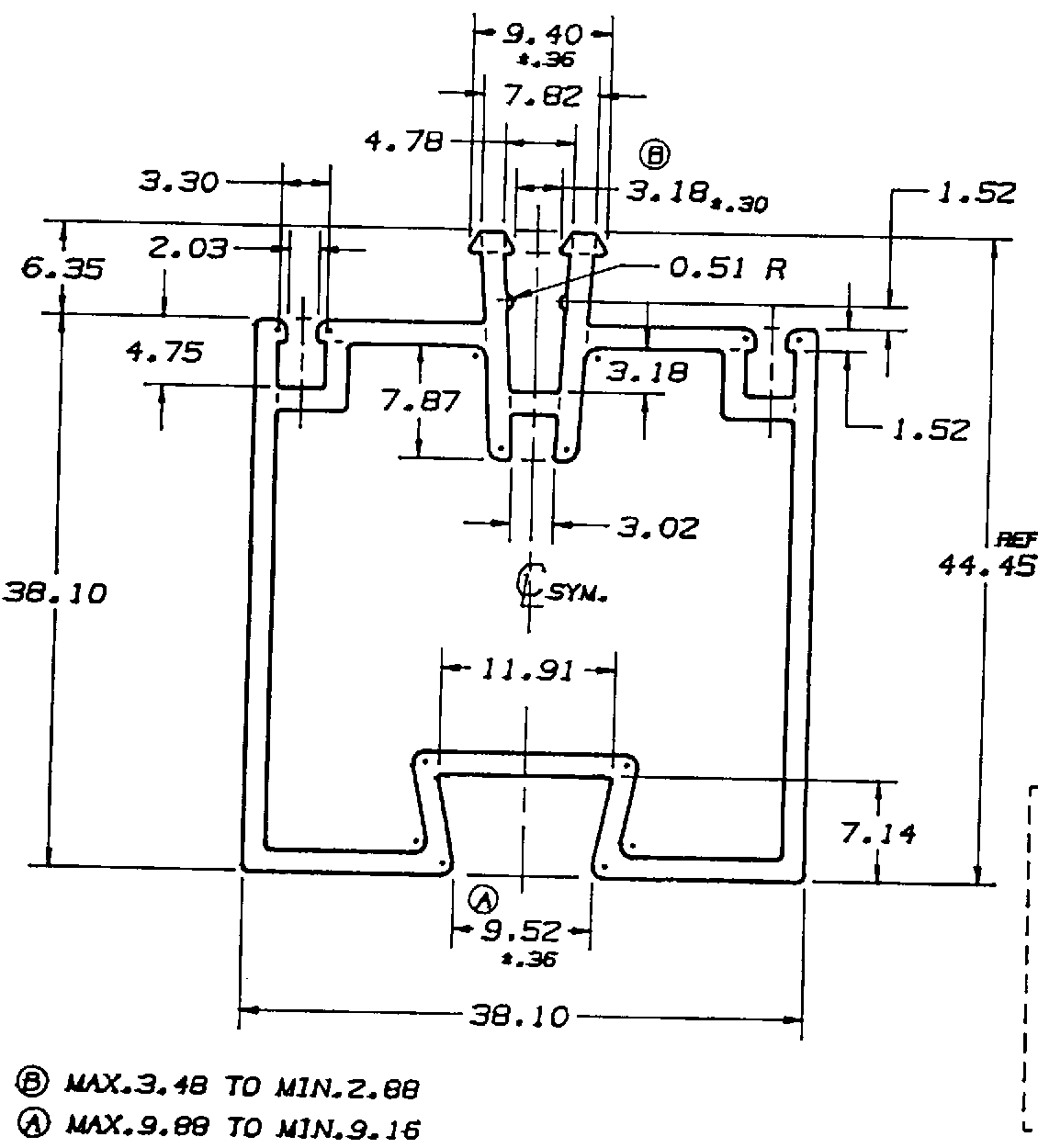 RAFTER PROFILE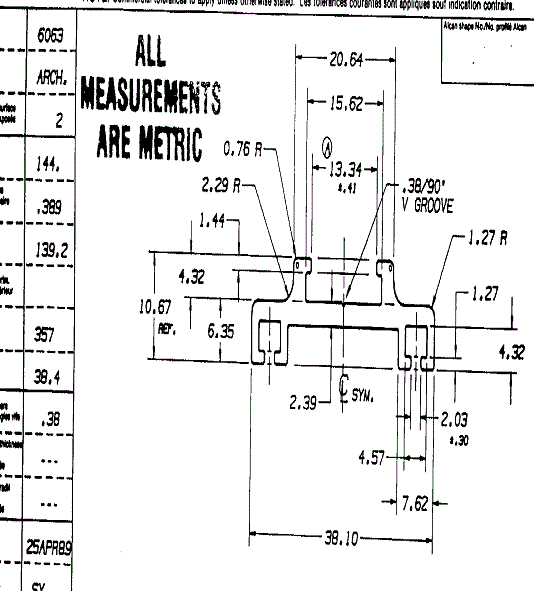 Aluminum Pressure BarCap Specifications
BARCAP PROFILE
Acrylic Sheet: Physical Property Specifications
Purpose is to encourage the proper use of acrylic sheet plastic in construction, and to aid architects in designing and preparing specifications consistent with the properties and characteristics of the material. [ Tables and literature from Rohm & Haas, Philadelphia, PA, CO-EX Corp. Rocky Hill, CT.] Commercial grade acrylic sheet is suitable for most building glazing applications.
Breakage Resistance
The figures below show that various thickness of acrylic sheet have greater impact resistance than other types of glass when impacted with a hard object, such as a stone.
Material
Nominal Thickness
Energy to Break
Acrylic Sheet
Acrylic Sheet
Acrylic Sheet
Acrylic Sheet
2.5 mm
3.0 mm
4.5 mm
6.0 mm
3.0
4.7
11.1
18.1
Single strength Window Glass
Double Strength Window Glass
Plate Glass
Plate Glass
.100 in
.125 in
.187 in
.250 in
0.8
1.8
2.0
1.0
Laminated Safety Glass
.250 in
1.1
Rough Wire Glass
Polished Wire Glass
.250 in
.250 in
2.2
0.4
IMPACT RESISTANCE OF ACRYLIC SHEET AND OTHER MATERIALS
AIR CANNON IMPACT STRENGTH Acrylic Sheet Nominal Thickness (mm)
Baseball (0.32#)
teel Tipped Dart (0.6 lb 1/2" Rad. Tip )
3.0
6.0
9.0
12.0
18.0
24.0
47 mph
84 mph
105 mph
147 mph
184 mph
220 mph
5 ft.lb
16 ft.lb
27 ft.lb
40 ft.lb
53 ft.lb
68 ft.lb
AIR CANNON IMPACT STRENGTH
Light Transmittance
The colorless form, Acrylic sheet is as transparent as the finest optical glass. Its total light transmittance is 92 percent, and haze measurement for colorless sheet averages only 1 percent.
Acrylic Sheet
Transmittance ( % )
Transmittance ( % )
Shade Coefficients Visible Light
Visible Light
Solar Energy
2370 Bronze (Dark)
2412 Bronze (Med.)
2404 Bronze (Light)
10%
27
49
20%
35
56
0.46
0.58
0.75
111 Green
2092 Green
2069 Blue
77
26
55
76
57
71
-
-
0.89
Colorless (Clear)
92
85
0.98
2412 Bronze is our standard (recommend) sheet in bright solariums.
Super White Translucent grades are preferred in south face roof areas for alleviation of extreme heat build-up in solariums - this transmits and bathes areas below in a natural cool white light plus delivering all your required light for the growth of plants, yet shades the area for human activity.
Ultraviolet Transmittance: Regular Acrylic glaze sheet ( G & MC ), will block some portions of the UV spectrum, but special grades are required when all ( UF-3 ) or most ( UF-4 ) of the UV needs to be absorbed.
Weight
Acrylic Sheet is approximately less than 50% as heavy as glass and 43% as heavy as aluminum.
Lexan "MacroLux" Panels [ double wall extruded sheet ] is 1/8 the weight of glass.
Thickness (mm)
Acrylic Sheet
MacroLux Panels
Glass Single Glaze
Glass Double Glaze
6
8
10
1.45
1.93
2.92
0.266
0.350
0.410
2.07
4.10
5.12
6.15
8.19
10.24
Total Energy Transfer
The amount of heat conducted throught Acrylic glazing is lower than for glass of the same thickness.
Chemical Resistance
While most household cleaners can safely be used with acrylic sheet, the material is affected by alcohol, paint thinners, turpentine, and similar petroleum solvents. To clean paint and grease, utilize NAPHTHA or KEROSENE for safe removal. Regular cleaning with a mild dish detergent and plenty of water is preferred, dry with clean cotton or air dry. A good grade of automobile wax can be applied as a polish, and is very useful in removal of minor surface abrasions.
Weather Resistance
Acrylic sheet has proved its ability to withstand weather and sun exposure with negligible loss of light transmission and clarity. The manufacturers warranty expresses a 10 year guarantee of less than 3% CHANGE in light transmission and clarity within this interval. No other type of plastic offers this assurance of satisfactory outdoor performance.
Heat Forming
When acrylic sheet is heated to its optimum forming temperature (approximately 325°F - 350°F), it becomes soft and pliable, and can be formed to almost any desired shape. As the material cools in its formed shape, it stiffens and retains the shape to which it has been formed. This permits architects to specify complex designed panels in small quantity at reasonable tooling costs.
Cold Forming
Flat sheets of acrylic can be cold-formed ... bent while cold to a smooth contour ... and held to the radius by springing the material into a curved channel support. The recommended radius of curvature for "G sheet" should be at least 180 times the thickness of the sheet.
Minimum Radius of Curvature for Cold-Formed Acrylic Sheet
Sheet Thickness
Min. Radius
1.5
3
4.5
6
8.5
12
11 in
21
32
42.5
60
86
Our standard minimum radius for 4.5 mm sheet is 36"
Sound Abatement
Acrylic sheet offers equal to or better sound loss characteristics than glass. It also has much better breakage resistance, so it can be used as a transparent sound barrier to reduce noise levels and increase safety at the same time.
Comparison of Noise Reduction Characteristics of Acrylic Sheet and Other Materials
Construction Material
Approximate dB (A) Noise Reduction
Acrylic Sheet 3 mm
Acrylic Sheet 6 mm
Acrylic Sheet 12 mm
25
29
33
Glass (1/8")
Glass (1/4")
Acrylic Sheet 12 mm
25
27
Plywood (1")
steel (1/8")
Sheet Lead (1/16")
Wood Stud Partition (4")
26
37
38
38
Thermal Expansion & Contraction Factor
Due to the thermal expansion and contraction, acrylic sheet is subject to greater dimensional change than other materials with which it is used in construction. This is factored into account when dimensions are laid out for any project. Considerations must be given to the overall temperature gradient ( max. & min. values ) that the glazed structure will be subjected to, and allowances are made to the sheet dimensions according to those values.
Thermal Expansion and Contraction Factor
Material
Expansion coefficients ("/"/°F)
Typical Modulus (psi)
Acrylic Sheet
Aluminum
Steel
Plate Glass
0.0000410
0.0000129
0.0000063
0.0000050
450,000
10,000,000
30,000,000
10,000,000
Example: (Sheet Location: = 25 1/2" x 14' ) If the ambient temperature at time of dimensional cutting is room temp. - then sheet is trimmed to 25 1/4" x 13' 5/8". Thereby, if sheet is cold at dimensioning, you must realize it is now contracted, and if the sheet is hot at time of trim, the sheet may be fully expanded. You therefore trim to what the opposite extreme temperature would consist of. Generally, on a sheet at 14 ft., the max. off-cut is approx. 1/2" - 5/8" in length, and approx. 3/16" to 1/4" in width. For smaller sheets, the maximal length off-cut is reduced proportionally.
Temperature / Humidity Bowing
Different temperature and/or humidity conditions on the inner and outer surfaces of thinner acrylic sheet may cause sheet to bow somewhat in the direction of the higher temperature and/or humidity. However, this type of bowing is reversible, and the sheet will return to its original flatness once the temp./humidity differentials are equalized. Bowing does not affect visibility through flat transparent sheet, but may cause distorted reflection. In translucent or opaque panels where visibility through the material is not required, this nature exhibits a specular disguise to reflective distortions. This will not occur in curved glaze, cold formed or heat formed. This event is lessened by use of thicker glaze panels on narrow width dimensions.
Service Temperature
The allowable continuous service temperature range for Acrylic sheet is 170° F to 200° F for exterior applications.
---
Assembly Description
The test assembly is illustrated below. As shown the test sunroom consisted of three curved rafter sections joined together by acrylic panels. The assembly was supported at the top end by fastening the ledge angle into a timber 2 x 6 which was bolted to the concrete block wall and at the bottom end by an angle fastened to a timber 6 x 6 fixed to the asphalt pavement.
The load was applied by stacking bricks onto a plywood sheet which was supported on six 2 x 4's on the aluminium rafters. The weight of a representative sample of bricks and the plywood was measured before load application. The test assembly deflection was measured at five locations:
three vertical movement monitors at the approximate centrepoint of each horizontal span
one vertical movement monitor at the curved end of the middle rafter
one horizontal movement monitor at the curved end of the middle rafter
The test assembly construction and load application was performed by Skyview Industries Ltd personnel. The load and deflection monitoring was performed by Hardy BBT Limited personnel.
---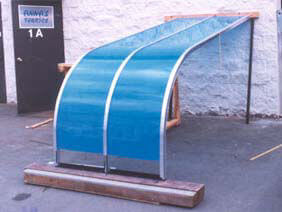 Unloaded Test Assembly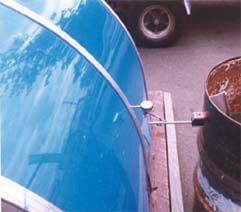 Dial Gauge for Horizontal Deflection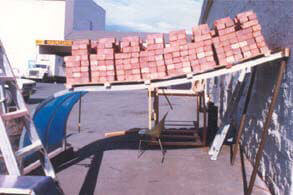 Loaded Test Assembly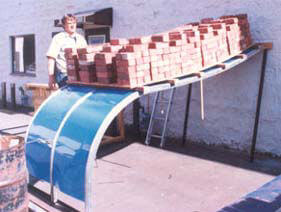 Loaded Test Assembly
Load Test Results
The test results are listed in Table 1. Loading was continued until it was observed that deflection occured under constant load. For this test assembly it was undesirable to apply load to destruction thus when creep deflection was observed, unloading was initiated. The test assembly and loading are illustrated above. For convenience the test results have been summarized below Subject: Results for the full-scale load test performed on the 10 ft. span.
Notes:
T5 architectural grade aluminium rafter 1½ inches depth

Nominal span: 10 feet

Test assembly constructed with three rafters 25 inches on centre
Load * psf
Equiv. Load ** per lineal foot per rafter
Deflection (inches)
Vertical
Horizontal
0
11.42
18.8
28.6
36.0
40.9
45.8
50.7
25
27
0
0.71
1.34
2.22
3.01
3.58
4.22
5.08
0
0.16
0.26
0.40
0.49
0.55
0.60
0.64
Load calculated for a 50 sq. ft. area (i.e. that area supported by three rafters) Load on per beam basis as shown in sketch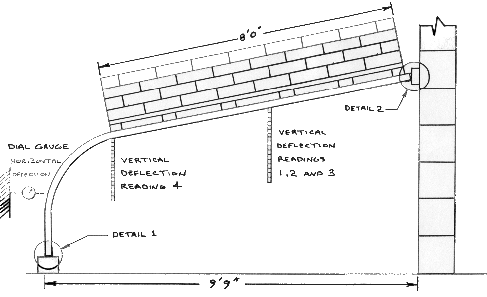 LOAD
LBS/LINFT (1)
PSF-50SF (2)
PSF-32SF (3)
0.00
0.00
0.00
3.30
1.59
2.48
13.54
6.50
10.16
18.66
8.96
14.00
23.78
11.42
17.84
28.91
13.87
21.68
34.03
16.33
25.52
39.15
18.79
29.36
44.27
21.25
33.20
49.39
23.71
37.04
54.51
26.16
40.88
59.63
28.62
44.72
1 (4)
2 (4)
3 (4)
AVE (4)
0.00
0.00
0.00
0.00
0.09
0.03
0.06
0.06
0.34
0.31
0.38
0.34
0.50
0.47
0.59
0.52
0.69
0.66
0.78
0.71
0.88
0.88
1.00
0.92
1.09
1.09
1.22
1.14
1.28
1.31
1.44
1.34
1.47
1.50
1.63
1.53
1.69
1.75
1.91
1.78
1.91
2.00
2.13
2.01
2.09
2.19
2.38
2.22
4 (5)
DG (6)
0.00
0
0.00
0.018
0.13
0.086
0.16
0.12
0.19
0.155
0.25
0.19
1.31
0.227
0.38
0.264
0.44
0.299
1.00
0.333
0.56
0.365
0.63
0.396
LOAD (continued)
LBS/LINFT (1)
PSF-50SF (2)
PSF-32SF (3)
64.75
31.08
48.56
69.87
33.54
52.40
74.99
36.00
56.24
77.55
37.22
60.08
85.23
40.91
63.92
90.35
43.37
67.76
95.47
45.83
71.60
100.59
48.28
75.44
105.71
50.74
79.28
105.71
50.74
79.28
105.71
50.74
79.28
0.00
0.00
0.00
1 (4)
2 (4)
3 (4)
AVE (4)
2.34
2.47
2.63
2.48
2.63
2.72
2.68
2.74
2.88
3.00
3.16
3.01
3.00
3.16
3.31
3.16
3.09
3.31
3.47
3.29
3.41
3.56
3.78
3.58
3.66
3.91
4.09
3.89
3.97
4.22
4.47
4.22
4.31
4.56
4.88
4.58
4.69
4.94
5.28
4.97
4.81
5.03
5.41
5.08
0.53
0.69
0.88
0.70
4 (5)
DG (6)
0.69
0.431
0.75
0.462
0.88
0.462
0.91
0.503
0.91
0.518
1.03
0.549
1.09
0.572
1.19
0.602
1.31
0.623
1.44
0.645
1.47
0.644
0.09
NA
TABLE 1 LOAD TEST DEFLECTION DATA
1. Load calculated as lbs/lineal ft/beam 2. Load calculated as lbs/ft² on a 50 ft² area 3. Load measured as lbs/ft on a 32 ft² area 4. Midspan certical deflection gauges 5. Vertical deflection gauge at curve 6 .Horizontal deflection gauge at curve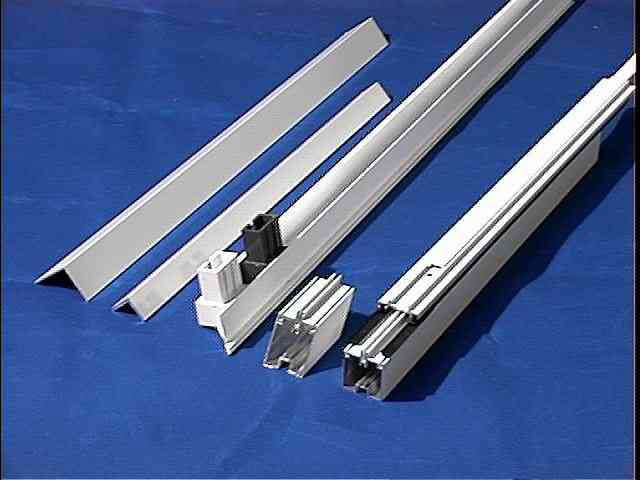 Left to Right
Angle for under and over glaze @ the Terminating front face 2(1/16" x 1.5" x 1.75")
1/8" x 1" x 1' Angle - used at all corners
"Base and Ridge": used to connect to structure @ roof and foundation areas.Note: the black and white Nylon connection plugs. Main rafter slip over these plugs and locked via a screw.
Short Section of Rafter Rafter + Barcap which is screwed into the rafter every 11" Note: the seals, (4 in total) - 2 each per aluminum barcap & rafter system, plus PVC screw cap cover.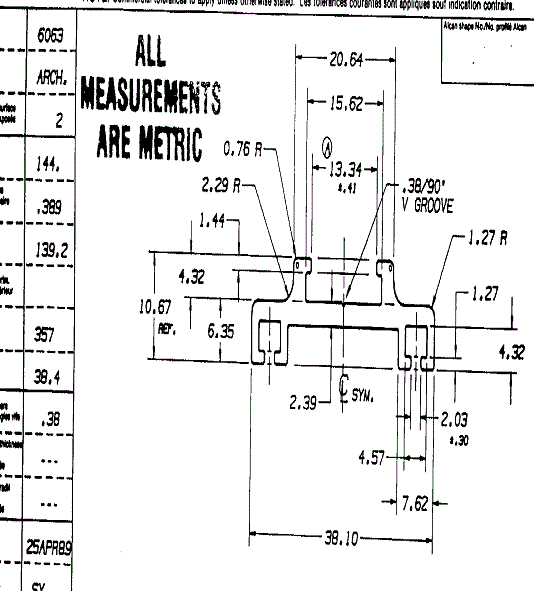 Barcap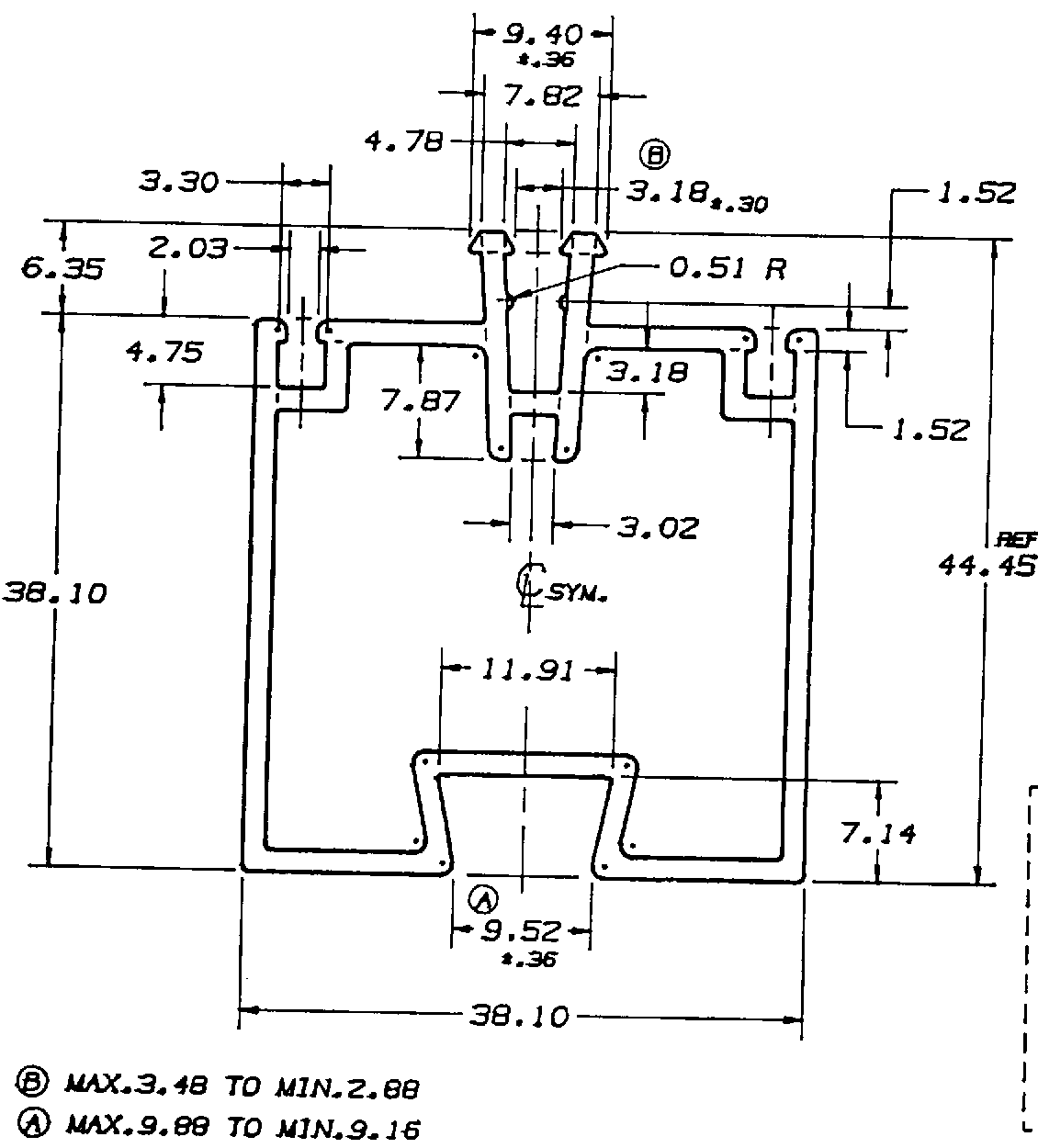 Rafter
Barcap
Basically 1.5" width x 1.2" total thickness depth.
Note: Upper profiles receives "PVC Screw Cap" & lower profile receives the cup seals (2 per Barcap length), plus pre-drilled holes every 11" along length for securing barcap and glaze, to rafter segments during construction.
Rafter
Both left and right upper shoulders support the glazing sheet with the 2 full length seals sitting under the glaze in respective slots. The center channel is to receive the screw from the Barcap that will squeeze or lock down the glaze, yet will still allow the sheet to remain alive under pressure for the required sheet expansion and contraction.
Note: The underside will be able to be slipped together to built a double or triple rafter as required due to some spans.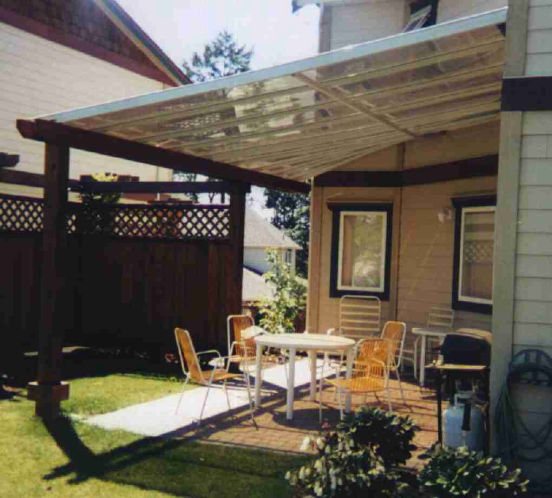 Straight Awning
Rafter centers are 24" to 26 1/8" [ Centers are dependent on sheet width from manufacturer ( 48" to 52 1/4") ] Note: Cross brace at mid span and wooden support posts + beam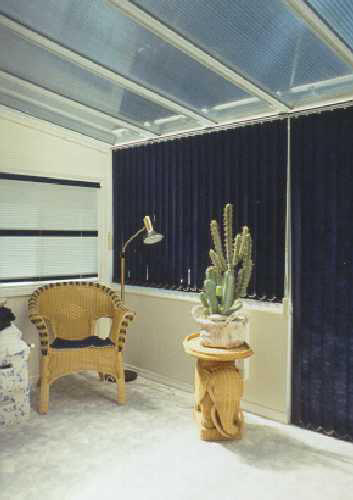 Twin wall Clear
Interior view of twin wall Clear polycarbonate glaze and white rafter/barcap Note: Full length seal above and below glaze.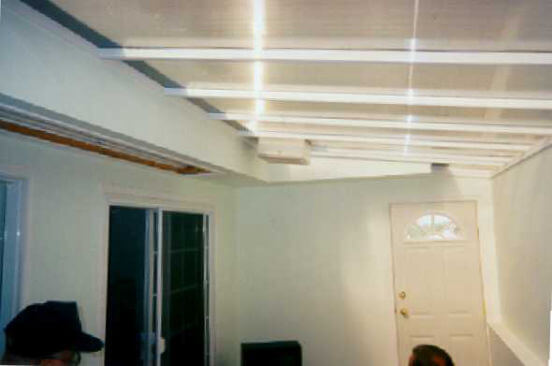 Twin wall Bronze Tint
Interior view of twin wall Bronze Tint polycarbonate glaze and white rafter/barcap.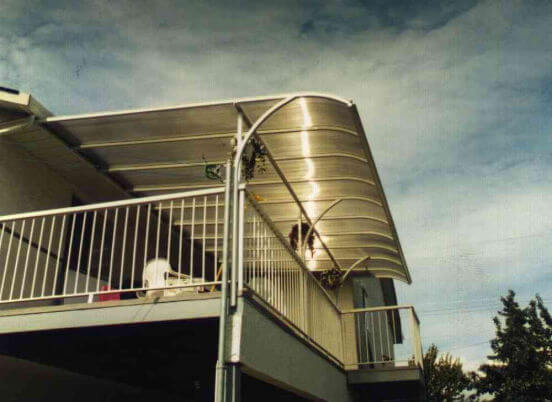 Curved Awning
Bronze Tint twin wall polycarbonate glaze Note: Curved front face support posts.
---
APPLICATIONS
Polycarbonate twin and triple wall coextruded Thermoglazing: Applications requiring material which offers high light transmission, thermal insulation, light in weight, yet incredibly strong, high shock resistance, flame retardance, great economy, vandal resistance, and design flexibility.
Agricultural
Industrial Building
Architectural Glazing
Home Improvement
Agricultural
Greenhouse coverings where good thermal insulation
is necessary together with light transmission.
Industrial Building
Various glazing applications, sheds, light domes, shelters
and insulating and light diffusing roofing.
Architectural Glazing
The ability to be cold formed into arches allows design freedom
not possible in other glazing. Walkways, shopping centers,
swimming pool covers, skylights and other space enclosures.
Home Improvement
Projects like window replacements, shower enclosures, greenhouses, partitions, light covers, patio covers, gazebos, solariums, carports.
---
Easy to Install - Polycarbonate will not crack or split when cut or drilled.
Extra Wide Panels - Standard widths of 4 ft. and length @ up to 24 ft. Special Order: 6 ft. wide & up to 36 ft. length.
Transparent - Offers up to 83% light transmission in its clear form, also available in bronze tint and white translucent.
Lightweight - Weighing just 1/8 the weight of glass. these panels are self supporting and do not require the extensive structural support that a heavier glass wall or skylight needs.
Highly Flexible - Unlike glass, polycarbonate can be readily cold formed to many bending radii, and can be fabricated on site to precise dimensions. The sheet can be cold formed bent to 150 times the thickness of the panel without over tensioning.
Virtually Unbreakable - Able to withstand extreme abuse, impact strength is 200 times greater than glass and 10 times greater than acrylic sheet. Maintains its impact strength over a wide temperature range from -40F to +250F.
Saves Energy - The twin wall and triple walled construction of these panels gives excellent thermal insulating values while blocking UV transmission.
Light Transmission - White, Bronze and clear allow light transmission from 42% to 83%. In addition, there is positive light diffusion due to the rib structure, this will provide a certain amount of internal privacy to the structure, plus a critical protective screen to young plants from burning. Sheets carry a clear coextruded outer surface which provides high stability against the effects of UV radiation and gives excellent durability to outdoor weathering. This unique protection insures long term optimal quality under intensive UV exposure.
Warranty - Backed by a 10 year warranty on light transmission and a 10 year warranty against breakage caused by hail.
Resistance of Polycarbonate to Chemical Agents at 73°F
The list below indicates the resistance of polycarbonate to chemicals and various products. Resistance can be effected by the chemicals concentration, duration of exposure, degree of pressure and temperature at time of contact.
Max. Purlin Spacing with a 1" Deflection
( 3/8" Twin Wall Example)
Light Transmission [ ASTM-D1003 (%) ]
CLEAR80 % BRONZE50 % WHITE62 % U-Factor (BTU/hr.-ft.2 F) 0.54 R-Value 1.79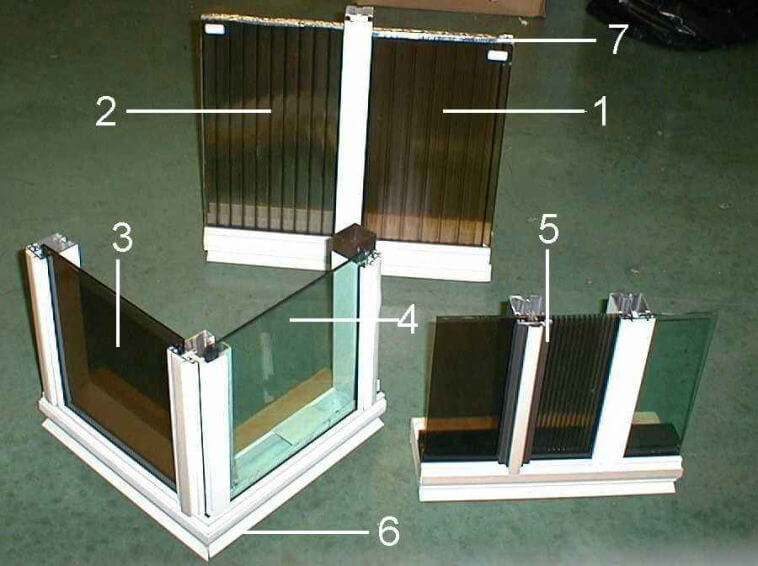 Glaze and Rafter Samples
Acrylic Corner Unit
Polycarbonate 1/2" Double Glaze Unit
Acrylic Straight Wall Unit
5/8" Bronze Polycarbonate
Clear 5/8" polycarb.
3/16" Bronze Acrylic
3/16" Clear Green
1/4" Bronze Polycarb.
white PVC dripcap @ base & ridge
Condensation/Dirt tape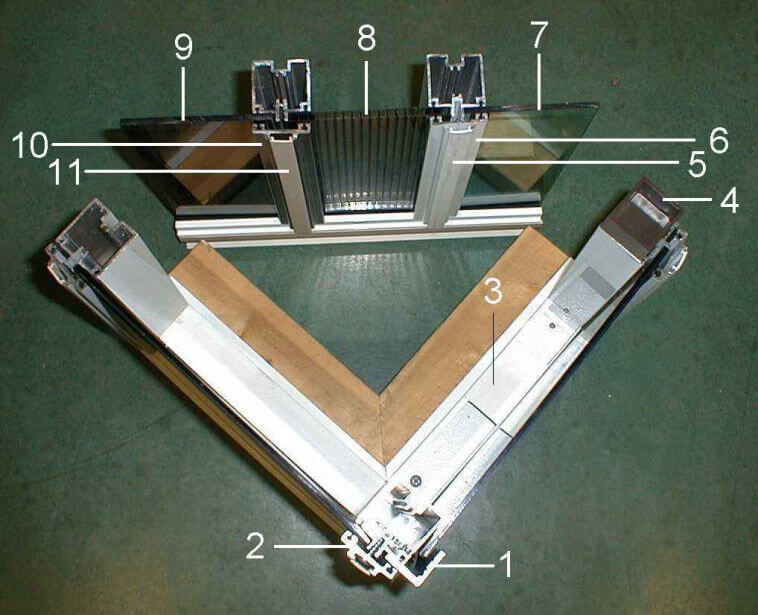 Rafter Corner Top View Details
4 "Santoprene" Seals per Rafter / Pressure Bar Cap
White PVC Screw Cap on each Pressure Bar Cap (Also available in Brown)
Center Glaze Section in Straight Wall Unit is bronze 1/4" polycarbonate
Aluminum - 1" - 90 degree corner angle
1" Angle Corner Segment
Barcap @ corner
PVC Dustcover (partial) on "Base & Ridge" base segment
ABS Magnum plug (brown example)
PVC Screw Cap cover on barcap (white)
Barcap (white)
3/16" green acrylic glaze
1/4" bronze polycarbonate
3/16" bronze acrylic glaze
Barcap (brown)
PVC Screw Cap cover on barcap (custom beige)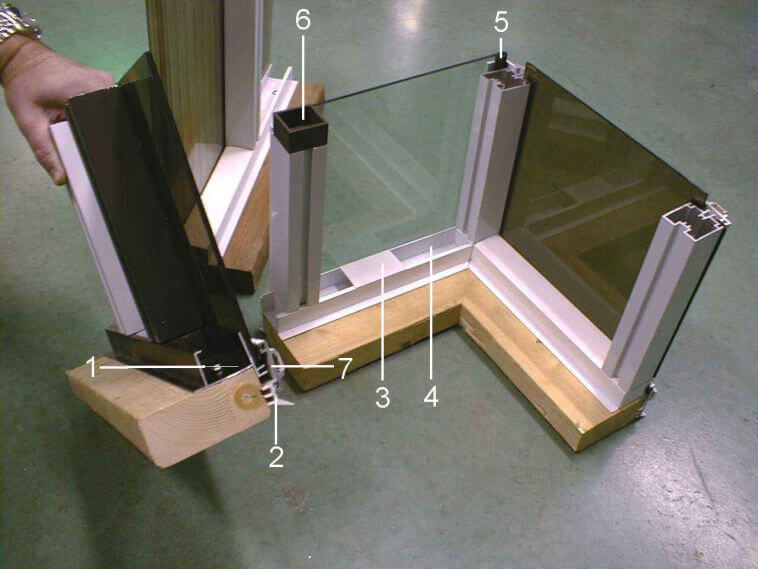 Base & Ridge Segment Details
White PVC Dust Covers on Corner Unit Base (full cover + Cut-Away section)
ABS Magnum Plug (corner unit: brown plug @ top of rafter & White plug in Base/Ridge segment)
White PVC Base Trim / Drip Flashing
U-Seal affixed to glaze at corner
Base & Ridge (brown)
PVC drip flash
PVC Dust Cover (cut away section)
Base & Ridge
U-seal @corner glaze
ABS Magnum connector plug (brown)
---
Aluminum
Available in White and Brown Enamel, PLUS Custom Color "Powder Coat"
ABS Magnum Plugs Connectors
Available in White or Brown
PVC
Screw cap covers: (white, brown and custom colors)
Dust Covers on "base & ridge"
Drip flashing on "base & ridge"
Glaze
You name it, we'll supply it.